This week, as we celebrate our nation's freedom and independence, and despite all of the current hurdles, I want to emphasize the importance of financial freedom for retirement and independence from the IRS. I want to teach you how you can have both!
I'm inviting you to learn how to reinvent your retirement with my newly released Retirement Protection Webinar. This no-cost, no-obligation educational event teaches the timing and importance of having a 21st century retirement to secure your financial freedom and independence from the IRS. This coming Tuesday I will be teaching how our clients have learned that you can have both. To learn how, just register for my Retirement Protection Webinar at RetirementProtected.com.
Here's why a 21st Century Retirement is so important:
The unexpected resurgence of COVID-19
The unknown outcome of the election
All the stimulus that's been pumped into the economy, causing even more taxes
U.S. stocks have so far weathered the COVID-19 disruptions surprisingly well. But hopes for a fast and smooth recovery are growing dimmer. Nearly 70% of asset managers expect a 20% correction in stocks, according to Citigroup's quarterly survey. The markets fell on fears of more COVID-19 lockdowns. Several states this week said they would halt further economic restarts but would still allow businesses that are already open to remain open.
Texas and Florida however, announced that bars would have to shut down once again to stop the spread of the virus. This sparked fears that states would impose more restrictions once again, hampering the economic rebound. Consumer spending (which makes up two-thirds of U.S. economic activity) rose by 8.2% in May, as states across the U.S. began a phased reopening of their economies. But, as new virus hot spots emerge, investors are having to reassess.
With a new record of 50,000 positive tests, the viral tracking chart below suggests that the first wave of infections never really ended. If another set of lockdowns proves necessary, what does that do to economic projections and, in turn, stock values and your retirement and taxes?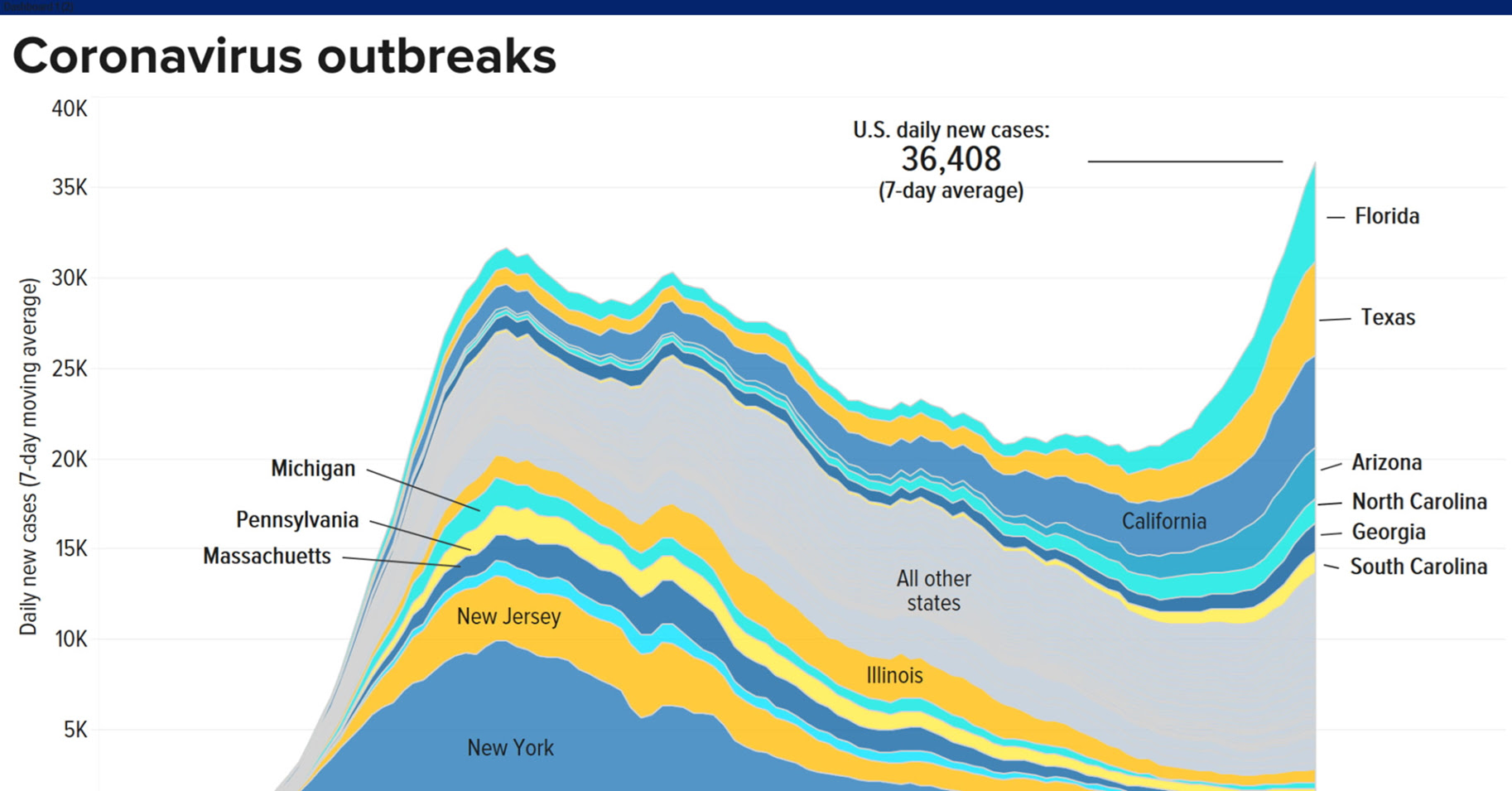 There's no doubt that the resurgence of the virus will hold back the recovery. Stock-picking is challenging even in the best of times. Investors are now operating in an environment where the usual metrics are foggy and almost unusable. Gregory Daco, of Oxford Economics, say that, " . . . we are starting to see worrisome signs of a stalling in economic activity, due to a renewed rise in cases." As an example, just last week there were two 700 point swings in the market (please see chart below).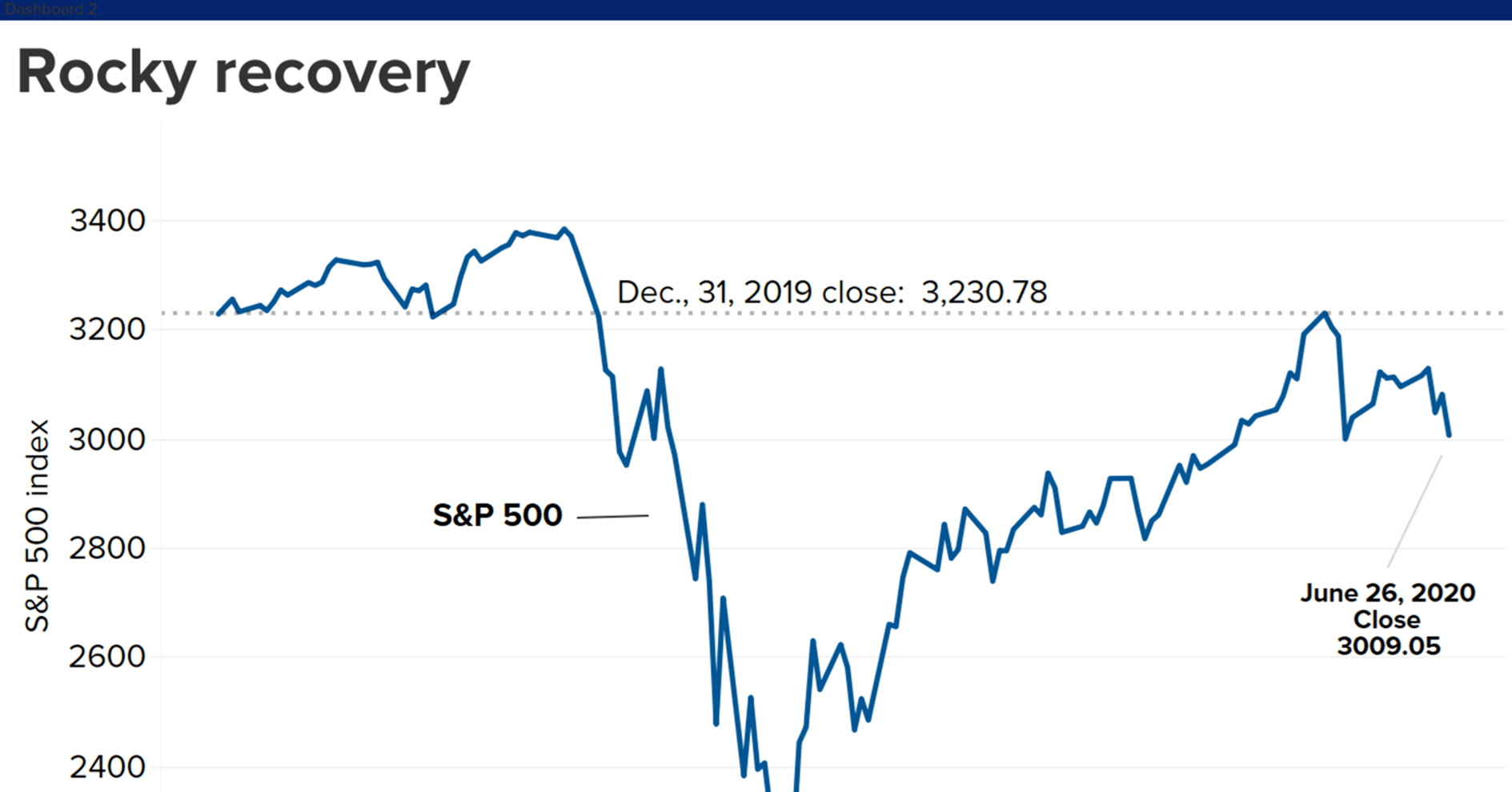 The financial impact of COVID-19 has many Americans reevaluating their retirement plans. Roughly two in five Americans say the COVID-19 pandemic has impacted their retirement plans by:
Having to retire later than planned
Not being able to retire at all
Being forced into retirement
In a recent poll, forty one percent of those surveyed are currently reevaluating their retirement plans to assess the financial impact of COVID-19. These findings are revealed in a new COVID-19 Tax Survey conducted in May, 2020 by The Harris Poll on behalf of The Nationwide Retirement Institute.
With all this turmoil and uncertainty people are looking for a safe place to put their retirement savings. Believe in better!
This coming Tuesday I'll be teaching my new Retirement Protection Webinar. I'll be teaching how you can upgrade to a 21st century retirement. A retirement where you enjoy upside market gains without suffering downside market losses. This common sense retirement solution allows you to lock in the rapid, fleeting gains without giving those gains back to the next coronavirus market crash. You will learn what you can do to grow, protect and keep more of your money and how to avoid a major reduction of your retirement money in 2020.
To register, go to www.RetirementProtected.com (or scroll down to the form below), select the webinar date/time you prefer, enter your information and submit the registration. Once you've registered, you'll receive an email containing a personal link to join Tuesday's event. Let me teach you how to protect your retirement money while there's still time. Learn the solutions that will make more and enable you to keep more of your money in 2020. Avoid the predicted market losses and protect your retirement income from higher taxes.
I encourage you to register for your preferred webinar time now, because these events fill up fast. Those who attend this event will receive an e-copy of my latest book, The Baby Boomer Retirement Breakthrough-The Unfair Advantage to a Safe and Secure Retirement.
– Spouses Are Encouraged to Attend This Event Together –
Let me leave you with one final thought. You deserve better. Avoid a reduced or ruined retirement by learning how the wealthy make more, spend more and leave more.
Note: We serve Boomers and Retirees all over the Unites States. We have an efficient, supported process to meet online, as have been doing for over 20 years. Our online meetings are private, the access is restricted and we never share our meeting link with anyone who's not a part of the meeting.
Charles Oliver
Wealth Strategist | Best-Selling Author
We help Baby Boomers and Retirees thrive in retirement through a clear retirement road map that provides market correction and tax protection to optimize income and assets!
www.TheHiddenWealthSolution.com